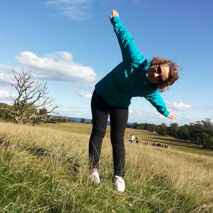 Simona's TastePoverty Challenge for Madera Girls Primary School
Giv bidrag
Oprettet Af:

Simona Lazeu

Medlem af hold:

Deltager i:

Samler ind til:
Simona's TastePoverty Challenge for Madera Girls Primary School
A few months ago my colleagues from BetterNow and I had the idea of developing a campaign to help charities that work with people in need to raise more money for their projects.
We started researching about poverty and got really moved by the statistics. We learnt that poverty means a lot more than hunger, it can also mean lack of water, healthcare, and education. And currently about 1.4 billion people live in extreme poverty (with less than $ 1.25/day).
Knowing these things, it became crystal clear that this campaign must happen. We called it
"TastePoverty Challenge"
because it's about challenging oneself to live with limited options, as poor people do.
The idea is to spend only
11.13 kr
. (which is the poverty line adjusted to the Danish purchasing power and inflation rate)
per day for food and drinks
. The purpose is not to get starved, but to experience some of the challenges poor people have to face every day.
I have done a trial of the challenge about a month ago, and believe me: It is not easy! I was not hungry, but the lack of veggies, sugar, and most of all COFFEE was highly felt by my body. Especially my brain.
Between the
26 and 30 of October
, I am doing it again, and this time it is not just to test my will-power. This time I will live under the poverty line for
Verdens Børn (World's Children)
, a non-profit organization engaged in providing support to poor, handicapped, ill, and orphaned children.
My goal for the following 5 days is to eat and drink
on less than 55.65 dkk (7.45 euros)
, and fundraise 2.000 dkk for the World's Children.
The money will go to Madera Girls Primary School, in Uganda.

The area where the Madera school is located experiences highly
unpredictable weather
, which makes it very difficult for the farmers to predict when they can plant. And as most of the population of Uganda is dependent on agriculture ….. Well, you can connect the dots. If they don't get it right, they don't have food to eat.
Most girls in Madera Girls Primary School come from poor families, and the food they are served at school is often
the only meal they can count on during the day
.
I am grateful for the chances live gave to me: For the education I got, for having access to decent hospitals, for the food I have in my plate three times per day. And
if I can do something to support another girl to go to school, learn, and raise,
I will do my best to help.
This time I am donating the rest of
my food budget
for the week, and I am spreading the word about Verdens Børn (The World's Children) work.
If you can and feel like, please support my fundraiser with a donation, and/or share my page with you network.
Many thanks for visiting my page and reading the story. Hope you will not close the tab and passively move on. :)
Simona
Simona Lazeu

Guys, thank you so much for all your donation! I have overachieved my goal. Feels so cool! Thank you, thank you!
As I mentioned, before the money will be used to buy food for a girls' school in Uganda. Together we have provided them with food for about two months.
Thanks for being awesome!
Cheers and good vibes,
Simona

Anonym

gav

500 kr.

Vlad and Andreea

gav

100 kr.

Anonym

gav

250 kr.

Give the best wishes to the girls from Madera primary school. Education, done well, is the most important weapon in discovering your purpose in life and knowing what's our place in society.

Anonym

gav

250 kr.

We should all do this more often! great initiative!

Aleksandra

gav

100 kr.

Clem

gav

100 kr.

As I said, great initiative Simona !

Anonym

gav

100 kr.

People shouldn't suffer because of their birth place.

Anonym

gav

250 kr.

Simona Gutas

gav

300 kr.

Great job Simo! Wish you good luck with this campaign!!

Judit Toth

gav

100 kr.

Great initiative! Good luck, Simona! :)

Julia Feld

gav

100 kr.

Great campaign, well done, Simona! You are the best!

Vanesa R.

gav

35 kr.

The price of one single cup of coffee in Copenhagen (and the budget for 3 days with the TastePoverty) to support a very good cause. :)

Alice

gav

30 kr.

Andreea Pirvut

gav

150 kr.

Maria Canet

gav

100 kr.

Very inspiring Simona :) Hope you survive a week without coffee! ;)

Simona Lazeu

gav

200 kr.