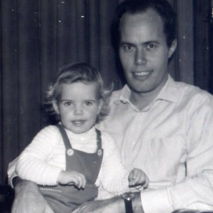 Oprettet Af:

Anne-Mette Boehm

Samler ind til:

Böhms 100
Dear family and friends,

We will celebrate our 50th birthdays with you on May 6th in Copenhagen.
Sadly Anne-Mette's parents won't be able to participate in the celebration as her father is suffering from Alzheimer's disease. He is currently in a stage of the disease which requires 24 hour support of her mother.
If you feel like, instead of a gift, please donate to the Danish Alzheimer's Association on this page. We would be very grateful for your support.

Love Anne-Mette & Andreas



What is Alzheimer's disease?
Alzheimer's disease is a form of dementia. It is the most common form of dementia. Dementia is a term used to describe memory loss and loss of other intellectual capabilities, like reasoning and thinking, that are severe enough to cause problems in daily life. Alzheimer's disease is named after Dr. Alois Alzheimer, who discovered the disease in 1906.
Alzheimer's largest risk factor is aging. However, it is not a normal part of aging. While the majority of people who have Alzheimer's are over the age of 65, it can happen in someone younger. Early-onset Alzheimer's is when the disease becomes noticeable in someone in their 40s or 50s. About 5 percent of people with this disease are in this age group.
This is a disease that progressively gets worse over time. In late stages, someone with Alzheimer's may not be able to communicate or reason with those around them. They will also eventually need full-time care for everyday life. The average life span of someone with the disease is eight years after diagnosis, but they can live up to 20 years depending on other health conditions. There is no cure at this time. However, there are treatments that can slow the progression and improve the quality of life for those with the disease.
Caring for someone with Alzheimer's can be a challenge physically, emotionally, and financially. It often involves a major shift in a relationships, when a child begins caring for a mother or a spouse begins caring for their spouse. It can be very challenging to care for someone who can be irritable, paranoid, or not even believe they need care at times. Many caregivers deal with guilt, frustration, and grief over the loss of the relationship.



Anonym

gav

500 kr.

Annette og Daniel Hayden

gav

500 kr.

Wishing all the best to your father and the family and in support of a good cause.

Finn Laustsen

gav

500 kr.

Sille Øbing-Jørgensen

gav

1.000 kr.

Vi ønsker din far og din familie alt det bedste. Kh Sille og Lars

Hanne Friberg

gav

979 kr.

Liselotte Hagland Larsen

gav

500 kr.

Helena, Ditte & Alexander Banck

gav

500 kr.

Simone Koch

gav

1.000 kr.

Ingelise & Carl Rosenstand

gav

1.000 kr.

Helle Roskvist

gav

500 kr.

Mark og Marianne Tingkov

gav

500 kr.

We wish your farther and your family all the best.

Anne Andersson

gav

2.000 kr.

Eva Larsen

gav

500 kr.

Med kærlighed og ønske om effektiv forskning i behandling og forebyggelse af Alzheimer.

Elisabeth Farwick

gav

500 kr.

Anonym

gav

1.000 kr.

Manuel Ruch & Alexandra Bollhalder

gav

1.000 kr.

Claus Bro Sørensen

gav

1.000 kr.

Line & Lars - Telemarksgården :-) Højvang & Nelmark

gav

500 kr.

Familie Pendt

gav

500 kr.

Familie Waelder

gav

2.000 kr.

Gid vi kunne hjælpe/have hjulpet vores kære "glemsomme" fædre.......Knus

Jan Beyer

gav

500 kr.

Anonym

gav

250 kr.

Olafur Thor Erlendsson

gav

500 kr.

Wish you the very best for your father

Susanne und Jürgen Kugel Engler

gav

1.500 kr.