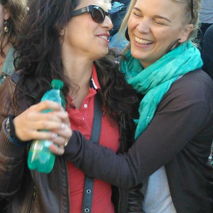 5 days below the extreme poverty line
Donar
Creado por:

Helene B.

Miembro del Equipo:

Participando en:

Apoyando a:
5 days below the extreme poverty line
We have decided to join the TastePoverty Challenge. We will try a piece of poverty and live on the same budget as people in extreme poverty: 11.13kr (1,5€) per day for 5 days! - no gifts allowed :) At the same time we will do our best to fundraise as much money as we can to support the Aktion Børnehjælp.
Not everyone are born lucky as us. We take our well-being more or less for granted and this include everything; having food on the table; clean clothes to wear; a safe and warm place to sleep during cold and dark nights; as much hot and cold water as we wish. We even take human rights for granted. But there are still 1,4 billion people living in extreme poverty and even more than that live without basic human rights.
Aktion børnehjælp works to improve the conditions of poor and marginalized children in India. If you want to read more about their work, please see their homepage
http://www.aktionb.dk/
.
Please join us in the TastePoverty Challenge with us, or help us in the fight against poverty by giving a donation to our fundraiser! We will be super grateful for each donation, whatever the amount!
Let's come together and make a difference!
<3 <3 <3 <3 <3 <3 <3 <3 <3 <3 <3 <3 <3 <3 <3 <3 <3 <3
Francesca & Helene
NB. Apologies on beforehand for being asocial and grumpy! Nobody knows if a week without any coffee will turn us into little monsters ;)
Donar
5.150 kr.


Recaudado

103% 5.000 kr.
Kristian

ha donado

150 kr.

Vivian Veltman

ha donado

135 kr.

Symbolical number so you can reach your goal. Thanks for doing this <3

Kåre Janus Andersen

ha donado

150 kr.

Jaap

ha donado

100 kr.

better late than never :) well done, hope the champagne tasted good on Friday...!

Rikke Jul Sørensen

ha donado

100 kr.

Derya Eilertsen

ha donado

250 kr.

This is so inspirational, Helene! Thumbs up and a job well done!!! Wishing more people of your kind for our world 🌍

Ali sheikholeslami

ha donado

250 kr.

Rute Jesus & Luis Abrantes

ha donado

200 kr.

this one to celebrate you having finished the challenge! great stuff, girls!

Sanna Sorvoja

ha donado

100 kr.

Camilla

ha donado

100 kr.

Godt initiativ og skidegodt klaret :-)

Malin

ha donado

50 kr.

Hans Henrik Wendt Larsen

ha donado

200 kr.

Anette Galskjøt

ha donado

500 kr.

Having lived three years in Bangladesh and witnessed the harsh reality of life in poverty I can only congratulate you girls on this great initiative!

Helena Åström

ha donado

100 kr.

Well done, girls! It's been inspiring to follow your week on fb :) and a very good reminder on how extremely lucky and spoiled we are.

Manijeh

ha donado

20 kr.

Flavia Moccia

ha donado

200 kr.

Grande iniziativa. Brave!!!

Nadine

ha donado

100 kr.

Jonas Mosimann

ha donado

250 kr.

Go Franci and Helene. Like the spirit!

Louise Boiesen

ha donado

100 kr.

Pernille Neergaard

ha donado

25 kr.

Anne-Mette Boiesen

ha donado

240 kr.

Kirsi

ha donado

100 kr.

Peter Sterkenburg

ha donado

200 kr.

Emanuele

ha donado

250 kr.

'Marco style' ......good job ragazze!! 250 kr donated!