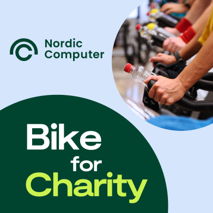 Help Nordic Computer Raise Charitable Donations for Doctors Without Borders Denmark
Giv bidrag
Oprettet Af:

Nordic Computer

Samler ind til:

Help Nordic Computer Raise Charitable Donations for Doctors Without Borders Denmark
Nordic Computer would like to announce our upcoming charity event in support of Doctors Without Borders Denmark. On 15th June 2023, Nordic Computer's employees will meet after work at Shape Up Fitness Aalborg, where they will attend a spinning class. Nevertheless, it is not just a regular spinning class, as Nordic Computer will donate 7,5 DKK/ 1 € for every kilometer cycled to Doctors Without Borders Denmark.

Indoor bikes at Shape Up Fitness will be available for us for 3 hours, and with more than 40 of our employees attending, we're fairly confident that a significant contribution will be raised to this worthy cause.

Be a Hero and Help Us Support a Great Cause!
We're on a mission to change lives, and we need your help. We invite you to show your support and donate on this page through the Donate Now button! Contributions that we receive together with a donation from Nordic Computer will be directly transferred to Doctors Without Borders Denmark as soon as the fundraiser ends on 16th June 2023. We believe that even a small donation can make a huge difference in the lives of those in need. That is why contributions of any amount are greatly appreciated.

Why Doctors Without Borders?
Imagine being diagnosed with a life-threatening illness but not having access to the medical care and treatment you need to survive. This is an everyday reality for millions of people who are struck by natural disasters or living in conflict zones. As we at Nordic Computer believe that everybody deserves equal access to medical care and treatment, we have decided to organize this fundraiser and donate all the contributions to Doctors Without Borders – a charitable organization providing a lifeline of medical aid to those who would otherwise be left without help.

By supporting our fundraising efforts, you can help them continue to be there for people in need and provide critical relief when it matters the most.

According to Doctors Without Borders Denmark, that is how far your support goes:
For DKK 5,000, they can buy 3,500 sterile syringes for vaccines.
For DKK 15,000, they can treat 60 malnourished children for one month.
For DKK 20,000, they can treat 10,000 children for malaria.

Tjeerd van 't Veld

gav

150 kr.

Anonym

gav

250 kr.

Let's beat cancer together

Peter Larsen

gav

500 kr.

Lars Jespersen

gav

100 kr.

For a good purpose and important job that makes a difference.

Pia Mortensen

gav

50 kr.

For all the good work done by MSF