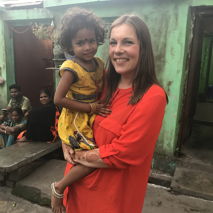 LittleBigHelp Velgørenhedsgalla 2017 Indsamling
Donar
Creado por:

Rikke Schrøder

Apoyando a:

LittleBigHelp Velgørenhedsgalla 2017 Indsamling
SEE ENGLISH BELOW

Ønsker du også at gøre noget, der betyder en kæmpe forskel for et andet menneske?

Den 30. september 2017 afholder LittleBigHelp for 8. gang vores Velgørenhedsgalla på Copenhagen Marriott Hotel for at indsamle midler til vores arbejde. LittleBigHelp arbejder med udsatte børn og kvinder i Vestbengalen, Indien, for at sikre deres basale rettigheder. Vi arbejder for at sikre grundlæggende børnerettigheder som uddannelse og beskyttelse, og styrke kvinder socialt og økonomisk gennem erhvervsrettet undervisning – hver eneste dag.

Hvis du ikke har mulighed for at deltage på denne fantastiske aften, men alligevel ønsker at støtte vores arbejde, kan du gøre det her med dit betalingskort og samtidig tilføje en hilsen eller kommentar. Flere kommentarer vil blive læst op af konferencier Jes-Dorph Petersen på selve aftenen.

I år er målet for vores Velgørenhedsgalla at indsamle 1,5 mio. kr., som går til alle vores 11 projekter, der hver dag gør en forskel for over 500 udsatte kvinder og børn.

Dette muliggøres ved, at Copenhagen Marriott Hotel igen donerer denne unikke aften og ved, at ALLE optrædende på aftenen stiller op gratis.

Efter du har støttet, tryk da del på Facebook for at lade andre vide, at du har doneret - måske vil din støtte inspirere andre i dit netværk til også at gøre en forskel.

Tak fordi du støtter en livsvigtig sag.

'Ingen kan hjælpe alle, men alle kan hjælpe nogle'

Kærlige hilsner

Stifter, Lisbeth Johansen

------------------------------------------------

ENGLISH

Would you also like to do something that makes a tremendous difference for another human being?

On 30 September, LittleBigHelp will for the eighth time be hosting our Charity Event at the Copenhagen Marriott Hotel to raise funds for our work in India.
LittleBigHelp works to create better opportunities for vulnerable children and women in West Bengal, India. We work to secure basic child rights such as education and protection, along with women's empowerment through skill development – each and every day.

If you cannot participate in this amazing Gala but still wish to support our work, you can do it here with your credit card and at the same time send a greeting or comment you wish to share. During the event, selected comments will be read to the audience by the Master of Ceremony, Jes-Dorph Petersen.

This year the goal for the Charity Gala is to raise 1.5 million DKK which will go towards all our 11 projects that help more than 500 vulnerable women and children everyday.

This unique event is made possible through the generosity of Copenhagen Marriott Hotel who once again is donating their venue for the evening, and by numerous event programme participants who are performing free of charge.

After making your donation, please click 'share on Facebook' informing your network about your donation – maybe your support will inspire other people in your network to also make a difference.

We are very grateful for your help and we look forward to sharing this amazing evening with you.

"Nobody can help all, but everybody can help some."

Thank you for supporting a vital cause.

Love from
Founder, Lisbeth Johansen
Donar
99.300 kr.


Recaudado

20% 500.000 kr.
Preben Johansen

ha donado

2.000 kr.

Lene Jørgensen

ha donado

100 kr.

I'm imprest my Lisbeth, what she acomplised by beliving, she really made it happen and have helped so many people. So a lille help from me to make it BIG.

Usuario anónimo

ha donado

1.000 kr.

1000 kr til børnene fra Kris Hermans farmor!

KONZEPT APS

ha donado

10.000 kr.

Casa Nord

ha donado

10.000 kr.

Usuario anónimo

ha donado

4.000 kr.

Snjölaug Nielsdöttir

ha donado

5.000 kr.

Tak Lisbeth, du gør verden til et bedre sted!

Usuario anónimo

ha donado

5.000 kr.

Usuario anónimo

ha donado

15.600 kr.

At turde gøre en forskel. Tak.

Volstrup

ha donado

5.000 kr.

Rendyrket Idealisme m.fl Lisbeth

Usuario anónimo

ha donado

3.000 kr.

Aguirre Consulting Aps

ha donado

1.000 kr.

Familien Sølbæk

ha donado

5.000 kr.

Per Joe Hansen

ha donado

500 kr.

Søren Jenstrup

ha donado

2.000 kr.

P.A Johansen

ha donado

15.000 kr.

Visuel IT

ha donado

10.000 kr.

Keep up the great work you have done for years :)

Stampe+Stampe

ha donado

5.000 kr.

Chanette Bach

ha donado

100 kr.