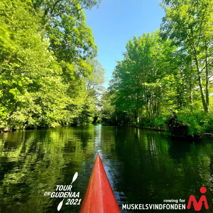 Little things make a difference - rowing for change
Donar
Creado por:

Verena Knöbl

Apoyando a:

Little things make a difference - rowing for change
Hej,
my name is Verena and this year I am participating in the kayak race "Tour de Gudenå", where I will be rowing 42km in a single kayak from Ans to Randers in Denmark.
I am lucky to be able to live an active lifestyle but some others can't, that's why I would like to create awareness and do a fundraising for Muskelsvindfonden - a Danish
non-profit organization that strives to find a cure for neuromuscular disorders. I would like to dedicate this race to one of my closest friends who is affected by this.
Your support to my fundraising would mean a lot to me. Together we can make a change :)
Many thanks in advance.
Kind regards,
Verena
Hej,
mein Name ist Verena und dieses Jahr nehme ich am Kajakrennen "Tour de Gudenå" teil, wo ich 42km in einem Single-Kajak von Ans nach Randers in Dänemark rudern werde.
Ich kann mich glücklich schätzen aktiv zu sein, Sport zu betreiben und mich ohne Einschränkungen bewegen zu können. Leider können das nicht alle. Deshalb möchte ich Bewusstsein und Aufmerksamkeit schaffen und hiermit zu einer Spendenaktion für Muskelsvindfonden, eine dänische gemeinnützige Organisation, die sich um eine Heilung für neuromuskuläre Erkrankungen bemüht, aufrufen.
Ich möchte dieses Rennen auch einem meiner besten Freunde widmen, der davon betroffen ist.
Über deinen Beitrag würde ich mich sehr freuen. Zusammen können wir etwas verändern.
Vielen Dank im Vorhinein.
Liebste Grüße,
Verena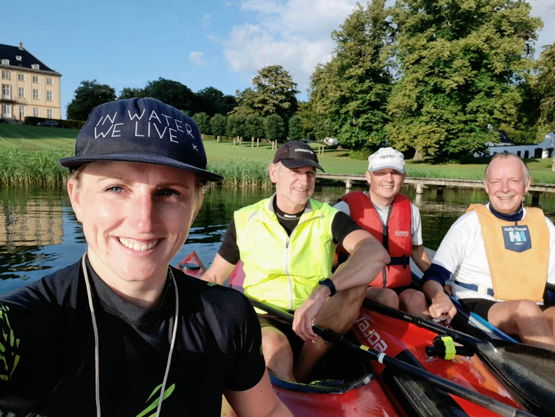 Donar
Verena Knöbl donado 1.210 kr.
Joan Naldal Muskelsvindfonden

På vegne af Muskelsvindfonden vil jeg gerne sige stort tak for din støtte til vores arbejde med at skabe det gode liv med muskelsvind. Det betyder rigtig meget for os og vores arbejde, at gode mennesker som dig laver indsamlinger.
Vh Joan Naldal, Muskelsvindfonden.

Michele e Paolo

donado

700 kr.

Verena Knöbl:

Grazie mille

Adam Riley

donado

250 kr.

Verena Knöbl:

Thanks a lot! :)

Ilana Efron

donado

200 kr.

Good luck!

Verena Knöbl:

Thanks a lot! :)

Gregory Lloyd

donado

500 kr.

Good luck!

Verena Knöbl:

Thanks a lot! :)

Stine Palland Svendsen

donado

250 kr.

Verena Knöbl:

Tusind tak :)

Kurt Svendsen

donado

250 kr.

Verena Knöbl:

Tusind tak! :) Jeg gl

æ

der mig til

lørdag.

Patrick M

donado

250 kr.

Verena Knöbl:

Thanks a lot! :)

Hermann Jakobitsch

donado

250 kr.

ROWING FOR CHANGE...sounds good ;)

Verena Knöbl:

Dankeschön :)

Maria Knöbl

donado

740 kr.

Verena Knöbl:

Dankeschön :)

Erna Grabner

donado

370 kr.

Verena Knöbl:

Dankeschön :)

Teodora Zhekova

donado

100 kr.

Verena Knöbl:

Thanks a lot :)

Helen Roberts

donado

250 kr.

Have a blast Verena!

Verena Knöbl:

Thanks a lot :)

Elisabeth Van Sante

donado

500 kr.

Verena Knöbl:

Thanks a lot :)

Tine Kvorning

donado

100 kr.

Verena Knöbl:

Tusind tak :)