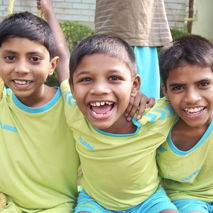 A Little Help From You is a Big Help for Others
Donar
Creado por:

Josephine Kristensen

Apoyando a:

A Little Help From You is a Big Help for Others
Dear Friend,
Soon I will be headed off to Kolkata in India, where I will be doing an internship. I will be spending the next five months working for the NGO called LittleBigHelp.
LittleBigHelp is an amazing non-governmental organization who works to provide better opportunities for vulnerable children and women in Kolkata, India. The organization works to secure basic rights for children, along with women's empowerment through skill development.
All children deserve a life in dignity, which includes food, protection, a place to sleep and an education. This is exactly what the projects of LittleBigHelp provide to children in an area where help is much needed.
The main focus of my work while in India will be to provide a safer environment for the children, as well at the staff on the projects. I will be using my knowledge and skills learned through my university program, Emergency and Risk Management. The aim of my work in India is to provide more safety and security through risk management. My backpack will be packed with smoke detectors, which I will bring to the projects – so my first task and challenge will be fire safety and all the steps fire safety includes.
A little help from you can be of very big significance for the children. The aim of the fundraiser is to support the projects of LittleBigHelp, so the impact can be even greater and the quality of the projects can continue. Your contribution will make a big impact.
An example of a project which the donations could support is The Girls Home and The Boys Home, which provides a safe home for vulnerable children. The home is a safe envireoment filled with care, comfort, nutrition and education. This is also where I will be spending most of my time working.
I am very much looking forward to joining the team in Kolkata, to following and working on the projects, and seeing the accomplishment and development of the projects through your contributions.
Feel free to share the link and inspire other people to make a difference too.
Thank you very much,
Josephine
If this has caught your interest, I would encourage you to take a look at LittleBigHelp's website, where you will find much more information about their work and inspiring projects at
www.littlebighelp.com
You can also follow their work on the Facebook page:
https://www.facebook.com/LittleBigHelp/
Or Instagram:
https://www.instagram.com/littlebighelp/
Donar
805 kr.


Recaudado

16% 5.000 kr.
Usuario anónimo

ha donado

25 kr.

Aske Ravn Jakobsen

ha donado

75 kr.

Mick Hansen

ha donado

100 kr.

Trisse Høegh

ha donado

80 kr.

Linda Bang Hansen

ha donado

100 kr.

Mathilde Villadsen Nielsen

ha donado

50 kr.

Usuario anónimo

ha donado

50 kr.

Usuario anónimo

ha donado

250 kr.

Linea Therkelsen

ha donado

25 kr.

Til et godt formål, og fordi jeg synes Jose er sej!

Usuario anónimo

ha donado

50 kr.

Du er den sejeste jeg kender!