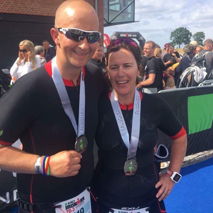 Created By:

hjertetriatleterne.dk

Collecting for:

støt kampen mod tabu
Vi samler ind til Psykiatrifonden, fordi at vi selv har oplevet at få en diagnose, og vi ved, hvor svært det kan være at skulle dele den med ens nærmeste – og omverdenen!



Dét tabu, man skal forholde sig til, omkring at man er psykisk syg, og at andre ikke kan se det, som de ville kunne, hvis man fx manglede det ene ben -

det gør ondt. Derfor er det vigtigt, at vi får sat fokus på psykiske sygdomme og lidelser og får fortalt, at det er ok at have en psykisk sygdom.



Vi har selv været der og er det stadig i ny og næ, og vi vil gerne have din hjælp til at fjerne tabuerne!




Donate
250 kr.


Collected

1% 50,000 kr.
Anonymous User

Donated

250 kr.

Min far har haft maniodepression og farmor døde selv af det alt for ung. Jeg kan have svært ved at tale med andre om der, især med folk der ikke selv har psykisk sygdom tæt inde pålivet.