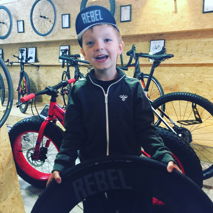 MS Challenge - Kampen mod Sclerose
Donate
Created By:

Jimmy Matas Hansen

Member Of Team:

Participating In:

Collecting for:

MS Challenge - Kampen mod Sclerose
Vi er to gæve gutter, hvoraf den ene skal cykle Red Bull Siberian Extreme til juli og den anden ikke har cyklet en tur på over 70 km i et år.

Det er giganternes kamp, David på hold med Goliath, når vi indtager de danske landeveje til maj for at cykle penge ind i kampen mod Sclerose. Træningen frem mod løbet bliver intens og hård, men vi glæder os til en fantastisk oplevelse og håber at kunne bidrage til førnævnte formål.

Intet beløb er for småt, da alt tæller. Vi har selv en bekendt hvis kone er ramt af sclerose og vi ved hvor meget det betyder at der bliver brugt tid på at forske og finde bedre vilkår for de ramte og deres pårørende.

"MS BIKE CHALLENGE cykler for en `en verden uden sclerose´ og dermed forbedrer tilværelsen for de ca. 15.000 scleroseramte og deres pårørende, som kæmper med sygdommen hver dag…
Sclerose er en sygdom, som vi i 2017 stadig kæmper mod og som scleroseforeningen ikke kan vinde alene. Din støtte er derfor et vigtigt skridt mod målet - at køre Sclerose i sænk! "
Donate
1,950 kr.


Collected

39% 5,000 kr.
Lotte Hyben Brix Pedersen

Donated

100 kr.

Dan Olesen

Donated

100 kr.

Johnny Bo Nielsen

Donated

200 kr.

Mogens Rasmussen

Donated

500 kr.

God vind til et på flere måder godt projekt.

Jonatan og hans forældre Andersen

Donated

250 kr.

Håber på medvind på cykelstien 🚴🏼🌬😊

Darija Matas

Donated

250 kr.

Zlatko Huseinovic

Donated

100 kr.

Jimmy Matas Hansen:

Taaaak Zlatko!!

Made by Rosenberg

Donated

100 kr.

Jimmy Matas Hansen:

Hey Thomas

1000 tl for jeres donation ;-

Morten Simonsen

Donated

100 kr.

God tur :-)

Jimmy Matas Hansen:

hey Si

1000 tak for din donation... det bliver en hård tur :-0 Håber vi snart finder en dag at ses!

Vladimir Putin

Donated

250 kr.

Jimmy Matas Hansen:

Stor tak