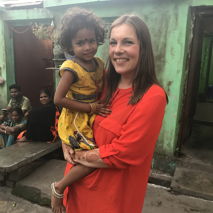 LittleBigHelp Velgørenhedsgalla 2016, Indsamling
Donate
Created By:

Rikke Schrøder

Collecting for:

LittleBigHelp Velgørenhedsgalla 2016, Indsamling
SEE ENGLISH BELOW

Ønsker du også at gøre noget, der betyder en kæmpe forskel for et andet menneske?

Den 1. oktober 2016 afholder LittleBigHelp for 7. gang vores Velgørenhedsgalla på Copenhagen Marriott Hotel for at indsamle midler til vores arbejde. LittleBigHelp arbejder med udsatte børn og kvinder i Vestbengalen, Indien, for at sikre deres basale rettigheder. Vi sikrer, at de får undervisning, får beskyttelse fra det hårde liv på gaden, får sundhedspleje og et måltid mad - hver eneste dag.

I år er målet for vores Velgørenhedsgalla at indsamle over 1,1 mio. kr., som går til følgende 6 vigtige projekter: LittleBigHelps drenge- og pigehjem, skolen i slumområdet, værestedet for børn og unge, uddannelsesstedet for udsatte kvinder og centeret for børn med særlige behov.

Dette muliggøres ved, at Copenhagen Marriott Hotel igen donerer denne unikke aften og ved, at ALLE optrædende på aftenen stiller op gratis.

Hvis du ikke har mulighed for at deltage på denne fantastiske aften, men alligevel ønsker at støtte vores arbejde, kan du gøre det her på indsamlingssiden med dit betalingskort og samtidig tilføje en hilsen eller kommentar. Flere kommentarer vil blive læst op af konferencier Jes-Dorph Petersen på selve aftenen.

Efter du har støttet, tryk da del på Facebook for at lade andre vide, at du har doneret - måske vil din støtte inspirere andre i dit netværk til også at gøre en forskel.

Tak fordi du støtter en livsvigtig sag.

'Ingen kan hjælpe alle, men alle kan hjælpe nogle'

Kærlige hilsner

Stifter, Lisbeth Johansen

------------------------------------------------

ENGLISH

Would you also like to do something that makes a tremendous difference for another human being?

On the 1st of October, LittleBigHelp will for the seventh time be hosting our Charity Event at the Copenhagen Marriott Hotel to raise funds for our work in India.
LittleBigHelp works to create better opportunities for vulnerable children and women in West Bengal, India. We work to secure their basic human rights such as education, protection, basic health care, and nutrition- each and every day.

This year the goal for the Charity Gala is to raise more than 1.1 million DKK which will go towards 6 important projects: LittleBigHelp Boys' and Girls' Home, Shalimar School in the slum, the Community Centres for children and youth, the Skills Development project for vulnerable women and the Centre for children with special needs.

This unique event is made possible through the generosity of Copenhagen Marriott Hotel who once again is donating their venue for the evening, and by numerous event programme participants who are performing free of charge.

If you cannot participate in this amazing Gala but still wish to support our work, you can do it here on this site with your credit card and at the same time send a greeting or comment you wish to share. During the event, selected comments will be read to the audience by the Master of Ceremony, Jes-Dorph Petersen.

After making your donation, please click 'share on Facebook' informing your network about your donation – maybe your support will inspire other people in your network to also make a difference.

We are very grateful for your help and we look forward to sharing this amazing evening with you.

"Nobody can help all, but everybody can help some."

Thank you for supporting a vital cause.

Love from
Founder, Lisbeth Johansen

Donate
144,452 kr.


Collected

29% 500,000 kr.
Lone Pedersen

Donated

500 kr.

Dion Sørensen

Donated

2,500 kr.

Jesper Wad Pernille Raun

Donated

1,000 kr.

Lila Grace Burmeister

Donated

250 kr.

Min første donation til velgørende, men ikke den sidste. Jeg er 6 mnr. gammel og beklager hvis jeg har grædt lidt under det meget flotte arrangement!

Kirs's farmor

Donated

1,000 kr.

Hele min familie er berørt. Ikke mindst min farmor på 91 år :)

Kasper og Emilie

Donated

500 kr.

Anette & Preben Johansen

Donated

3,000 kr.

Marlene & Jes

Donated

1,000 kr.

Henrik Gilvad

Donated

1,000 kr.

A little little help from so YOU can give a little BIG help to others.

Rikkeline M. Quartz

Donated

6,000 kr.

Anonymous User

Donated

35,000 kr.

LOVE IS ALL AROUND FROM MARRIOTT TO CAL! SEE YOU SOON <3

Peter Rasmussen og Marie-Louise Werner

Donated

500 kr.

Borge Holding

Donated

5,000 kr.

Underdog Studio

Donated

1,200 kr.

Bliver rørt helt ind i hjertet. "Be the change you want to see in the World" - Gandhi

Tonny & Mette Nielsen

Donated

5,000 kr.

Anonymous User

Donated

1,500 kr.

Høgh og Rousing Invest A/S

Donated

21,002 kr.

De blå mænd - El og VVS

Donated

2,500 kr.

Dejligt med ildsjæle - TAK!

Zebergs Consultancy ApS

Donated

2,500 kr.

Godt arbejde - Held & lykke i fremtiden

Christina Reuter

Donated

300 kr.

Danny D og Simon A

Donated

200 kr.

Benægt, benægt, benægt... Ellers, lyv, lyv, lyv

Charlotte Buchard Nørager

Donated

1,000 kr.

EDC - Hobro

Donated

5,000 kr.

Pajo-Bolte A/S

Donated

15,000 kr.