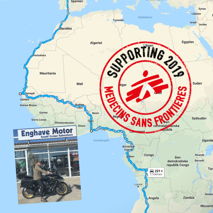 Copenhagen to Cape Town
Donate
Created By:

Kristian Rudbeck

Collecting for:

Copenhagen to Cape Town
Hi! My name is Kristian Rudbeck. I'm 32 years old and from Copenhagen, Denmark. I'm a crazy Dane with a passion for adventure, motorcycles and craftsmanship.
Soon I will fire up my motorcycle and head out on a 2 month long adventure, driving from Copenhagen to Cape Town.
Having travelled to several remote areas on different continents, I have seen and experienced how people live, thrive and struggle in other parts of the world. I've visited places where three meals a day, a shower or medical help just aren't guarantees. Nonetheless, I have always met smiles, warmth and kindness.
This fundraiser will go to support Doctors without borders work, to help people in emergency situations and give them an extra chance to receive and share smiles, warmth and kindness.
All donations here are highly appreciated. A small amount will also make a difference.
I will do my best to share smiles, warmth and kindness on my adventure and with everyone else, via instagram @tellmetotrave #copenhagentocapetown

Donate
9,100 kr.


Collected

61% 15,000 kr.
Wycher van Vliet

Donated

250 kr.

Well done, sir! Adventure of a life time, plus always a good pub story ready ;)

Jeannie Thomsen

Donated

250 kr.

Godt initiativ Kristian. Sidder lige nu med din mor og far. Så fik jeg lidt hjælp til at finde siden. Knus Gert og Jeannie 😘

Anders Bak

Donated

250 kr.

Helle Rudbeck

Donated

250 kr.

Monika Wasilewska

Donated

250 kr.

Mads Vestergaard

Donated

500 kr.

Team BYG Greve Kommune

Donated

800 kr.

Kristian Rudbeck:

Mange tak team BYG 😃 fed

Michael Schlüter

Donated

1,000 kr.

Sikke en tur du har fundet på, Rudbeck. :) Jeg får helt lyst til selv at tage på en lang tur på MC. God vind og sikre veje. Schlüter

Kristian Rudbeck:

Stor tak for den fine donation. Du kan bare komme og joine

Flemming Andersen

Donated

250 kr.

God tur fra onkel

Kristian Rudbeck:

Mange tak

Katrine Rudbeck

Donated

300 kr.

Kristian Rudbeck:

Stort tak søs :

Allan Rudbeck

Donated

250 kr.

Go tur fra far

Kristian Rudbeck:

Tak far

Rasmus Stampe

Donated

250 kr.

Kristian Rudbeck:

Tusind tak

Michael Grossert

Donated

250 kr.

God tur min ven🇩🇰

Kristian Rudbeck:

Mange tak Michael

Cathrine Fischlein

Donated

100 kr.

Fra Norma, kør pænt siger hun 🏍

Kristian Rudbeck:

Hun skal have tak 😃 skal jeg no

Reno Moestrup

Donated

150 kr.

Kristian Rudbeck:

Tak for donationen

Dorthe Helleberg

Donated

100 kr.

Kristian Rudbeck:

Tak

Stefan Bundgaard

Donated

200 kr.

Kristian Rudbeck:

Mange tak 😃

Michael Algren

Donated

100 kr.

Kristian Rudbeck:

Mange tak :-)

Shark House

Donated

500 kr.

God tur, Pas på dig selv! Fandme sejt!

Kristian Rudbeck:

Tak, det skal jeg nok :-) Tak for donationen

Snuki Banditten

Donated

500 kr.

Spiffy look alike, He's Got that bling

Kristian Rudbeck:

Kæmpe tak for donationen.

Gry Eisner

Donated

250 kr.

Kristian Rudbeck:

Gracias

Lene Aastrøm Hansen

Donated

100 kr.

Kristian Rudbeck:

Stort tak :-)

Jakob Platz

Donated

100 kr.

Kristian Rudbeck:

Mange tak for donationen :-)

Victor Guedon

Donated

250 kr.

Great purpose and adventure! Make it count!

Kristian Rudbeck:

Merci beaucoup :-)